Rhodos Bar, Restaurant & Hotel Morzine, France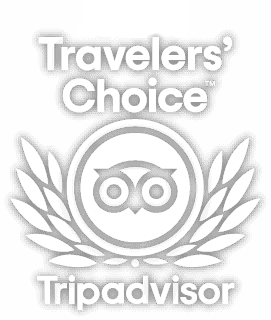 Rhodos is famed in Morzine for its versatility. With a mixed crowd of French & British locals and tourists alike, we're a lively bar with a fun fuelled après ski often featuring live music and DJs. On top of that we show a whole host of sport on giant screens, serve a majestic range of lagers, ales and ciders (both on draft and in bottles) and stay open until 2am, ensuring we've got your whole night covered! Not just a drinker's delight, the Rhodos restaurant opens daily for delicious cooked breakfasts, heart warming lunches and comforting dinners.
We are open
See The Rhodos Hotel, Resturant & Bar in Morzine after Covid-19 Lockdown reopening - we are a Covid-19 safe location!


For those of you wishing for a centrally located hotel with modern boutique features, 2 star amenities and a lively atmosphere the Rhodos Hotel is an ideal choice. Just 50 metres from the bus stops servicing all the local lifts, the Rhodos is ideally situated to maximise your Morzine Winter holiday. You can also book ski or board hire, lift passes and airport transfers with us through this Rhodos bar website (whether you stay with us or not).
Book Room
About The Rhodos
Located in Morzine, France

The Rhodos Hotel, bar & restaurant is central to Morzine and Morzine is central to the Porte de Soleil ski area. With access to over 280 ski runs you'll be hard pushed to get around everywhere in a week. To maximise your mountain time, at just 75 minutes from Geneva airport, Morzine is seriously easy to get to.

The Rhodos Bar

Before the sun rears its head over the mountains, our staff have the Rhodos bar up and running for freshly ground coffees, teas and hot chocolates. With an energetic bar service running all day we have a great range of draft lagers, bottled ciders and craft beers to suit your mood. Match that with cocktails, premium spirits and wines and you've got yourself a bar! Things liven up for apres ski around 4pm and that's the pace set for the rest of the night. Check our events listings in more detail for our daily shenanigans.

The Rhodos Restaurant

With 3 services per day including breakfast, lunch and dinner we've got all the mealtimes covered. Whether it's a hearty cooked breakfast, a relaxed lunch or a celebration dinner, our menus are tailored to suit. Our friendly service is complimented by delicious dishes served in a warm, relaxing atmosphere. Breakfast starts at 7.30am through until midday when we hand over to lunch until 2pm during which we offer an incredible 3 course menu of the day for just 17 euros (or simply the plat for 12 euros) alongside our a la carte menu. Dinner service starts for early-birds and families from 6.30pm up until 9.30pm every evening. Look out for special nights dedicated to delicious cuisine, our new Steak night on Wednesdays will have your mouth watering.

The Rhodos Hotel **

More than just a place to stay
Your Winter holiday is important and we here at the Rhodos hotel strive to make sure your stay at the Rhodos is very comfortable, the food is of a high quality and that you make some great fun-filled memories. A half board stay during the Winter includes a French style breakfast and a delicious 3 course set meal in the evening. Along with good value boutique style accommodation, a lively bar and friendly, helpful staff, you'll be well prepared to go skiing every day and happy to return to us each evening for apres ski!
Our Weekly events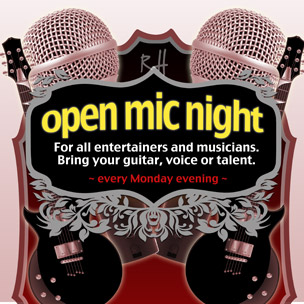 Open Mic Night
Every Monday night from 5pm – 7pm. One of Morzine's most popular live music nights sees our resident musicians host an apres-ski where almost anything goes. Some sing a song, some play the guitar, some rap it out and some just stand back and drink. Just go with the flow…….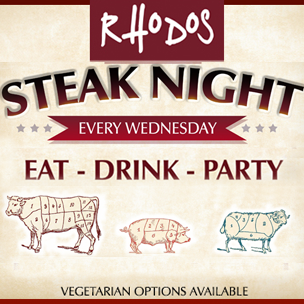 Steak Night
This Winter we are continuing our dedicated Steak night every Wednesday. As well as a choice of succulent steak cuts including rumps, sirloins, filets and prime rib, you can choose the sauce and sides to suit your taste. If you are a steak lover then this is the time & place for you. Book your table between 6.30pm and 9.30pm directly through our contacts page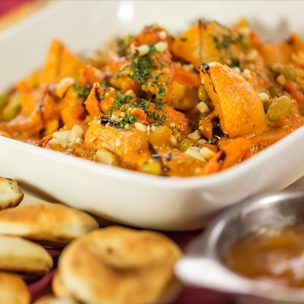 Curry Night
Every Friday night our dedicated chefs draw inspiration from further afield and cook up a mean curry. Whether it's a Thai green curry or a Lamb Rogan Josh on the menu, it'll be served with rice, naan bread and chutney. You never know, there might even be the odd bhaji or samosa to top it off!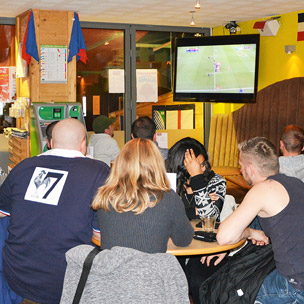 Live Sports Bar
With so much sport throughout the year Saturday afternoons and every other day at Rhodos is the time and place. Come down early and secure a spot next to one of our giant screens and settle in with a 5 pint Giraffe of beer for you and the mates.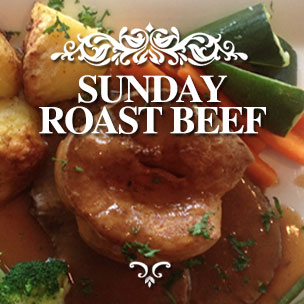 Sunday Roast Beef
Sometimes only a taste of home will do and we epitomise that every Sunday lunchtime when our chefs pull out the big guns with Roast beef, giant Yorkshire pudding, crunchy roast potatoes and seasonal veg all steeped in lashings of rich gravy, mmmm. Served from midday – 2pm.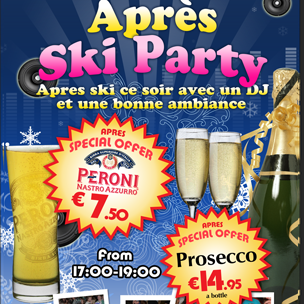 Apres Ski Party
Tuesdays is all about the apres ski between 5pm and 7pm. With pints of Peroni at 7.50euros and bottles of Prosecco at 14.95euros, we've got something for the guys and the gals. Feel free to stick around for dinner or take advantage of our take away Pizza offer: when you buy 3 you'll get the fourth on us.
Photographs of
The Rhodos Bar, Restaurant and Hotel
The Rhodos Bar and RestaurantMorzine, France